What is the Future Of Vertical Farming Market – Industry Share Analysis, Key Players and Future Prospect
The vertical farming market is expected to reach USD 9.7 billion by 2026, at a CAGR of 25.0%
The Vertical Farming market is expected to grow from USD 3.1 billion in 2021 to USD 9.7 billion by 2026; it is expected to grow at a CAGR of 25.0% during the forecast period. Advancement in LED technology, the ability to facilitate year-round crop production irrespective of weather conditions, and minimum requirement of resources such as land, water, and labor to carry out farming are the major factors driving the growth of the vertical farming market. The growth opportunities for the market players include cannabis cultivation through vertical farming and potential market opportunities in Asia Pacific and the Middle East.
Browse over 240 tables, 50 figures/charts, and an in-depth TOC on the Vertical Farming Market report.
• Informational PDF Brochure :- https://www.marketsandmarkets.com/pdfdownloadNew.asp?id=221795343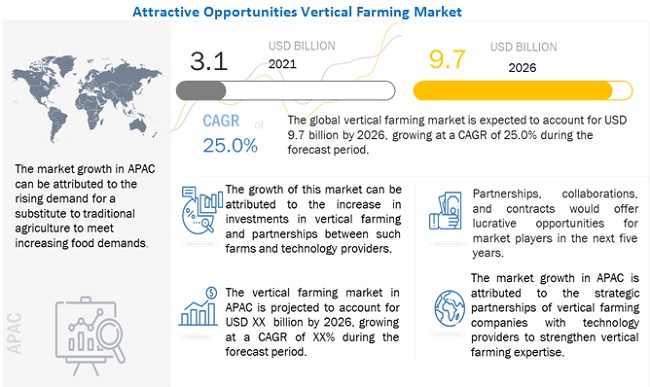 Hydroponics-based vertical farming is expected to be the most popular farming method among growers by 2026
Hydroponics is a widely used vertical farming methods among growers in which the roots of the plants are provided with nutrient-dissolved solutions through water channels equipped with the pump and irrigation systems, according to the grower's needs. Number of advantages associated with hydroponics-based vertical farming including higher returns on investment, low initial setup cost, and less complex setup process than the other mechanisms are among major factors driving the market growth. Hydroponics systems are used both indoors and outdoors for growing herbs, foliage, and food items throughout the year using an inert growth medium to anchor the plant's roots. One of the major advantages of using this mechanism is less water requirement as the system reuses the water.
Emerging vertical farm solutions for small farmers to drive demand for shipping container-based vertical farms
The market for shipping container-based vertical farms is likely to register a higher CAGR due to ease of installation and mobility. Shipping container-based farms use 40 ft. containers that are refurbished by several companies into self-contained vertical farms. These containers feature innovative climate technology and growth equipment, along with a suitable environment throughout the year for low- or medium-volume and consistent harvest, irrespective of different climatic conditions. In shipping container-based vertical farms, LEDs, drip-irrigation systems, and vertically stacked shelves are installed to grow a variety of plants. These self-contained units have computer-controlled growth management systems that allow users to monitor all the systems remotely with the help of a smartphone or a computer. Freight Farms (US), GrowPod Solutions (US), and Agricool (France) are some of the key players in shipping container-based vertical farming.
Increasing adoption of LED lighting systems in vertical farms due to design flexibility for small to large vertical farms and maximizing the growth of crop yield and quality
Vertical farming highly depends on artificial lights. Artificial light acts as a substitute for sunlight and provides sufficient light intensities that enable crop growth. The amount and duration of the light are the main aspects considered while providing lighting for plants. In recent times, LED lighting has become the most preferred grow lights in vertical farming. Signify (Netherlands), Osram (Germany), Everlight Electronics (Taiwan), Heliospectra AB (Sweden), and Valoya (Finland) are some of the key players in the vertical farming market, offering a wide range of lighting products and systems. Signify (Netherlands) offers Green power LED production modules; these LED lights help optimize growth systems for crop cultivation all year round.
Asia Pacific likely to witness highest growth in the vertical farming market by 2026 due to the rapidly growing population
The concept of vertical farming in Asia Pacific is growing rapidly due to the increasing urban population and decreasing agricultural land. The region is investing a significant amount in developing vertical farming systems to feed its urban population. Countries such as China, Singapore, Hong Kong, South Korea, and Japan are technologically equipped which is complementing the growth opportunities for the vertical farming market in Asia pacific region. Singapore in Asia Pacific region is a key market for vertical farming due to factors such as government-sponsored industrial parks, which allow companies to build their businesses on the island, and the availability of reliable and affordable energy supplemented with renewable resources. The Singapore government is keen to improve food production in the country; hence, it is funding different production facilities. For instance, the Agriculture Productivity Fund, a government food agency, supports local farmers by providing them funds to expand production capability and raise efficiency.
The report profiles key players in the vertical farming market and analyzes their market shares. Players profiled in this report are Signify (Netherlands), Osram (Germany), Freight Farms (US), AeroFarms (US), sky Greens (Singapore), Spread (Japan), Plenty (US), Valoya (Finland), Everlight Electronics (Taiwan), Heliospectra AB (Sweden), Green Sense Farms (US), Agrilution (Germany), American Hydroponics (US), Urban Crop solutions (Belgium), Vertical Farm Systems (Australia), Bowery Farming (US), Agricool (France), Sananbio (US), Growpod Solutions (US), Infarm (Germany), Altius Farms (US), Intelligent Growth Solutions (Scotland), 4D BIOS INC (US), Future Crops (Netherlands), Bright Farms (US), Swegreen (Sweden), and Vertical Future Ltd (UK).
Study Coverage
This report segments the vertical farming market based on structure, growth mechanisms, offerings, crop types, and regions. It also describes major drivers, restraints, challenges, and opportunities about this market, as well as includes market share analysis, value chain analysis, porter's five forces analysis, trade analysis, ecosystem, technological trends, pricing analysis, key patents, standards and frameworks, and case studies/use cases.
Brief information on the research methodology for the report can be found in the report description provided on the website.
Media Contact
Company Name: MarketsandMarkets™ Research Private Ltd.
Contact Person: Mr. Aashish Mehra
Email: Send Email
Phone: 18886006441
Address:630 Dundee Road Suite 430
City: Northbrook
State: IL 60062
Country: United States
Website: https://www.marketsandmarkets.com/Market-Reports/vertical-farming-market-221795343.html