ChocolateSwap Token Is Set To Go For Pre-sale On Pinksale
ChocolateSwap token powers the ChocolateSwap Ecosystem.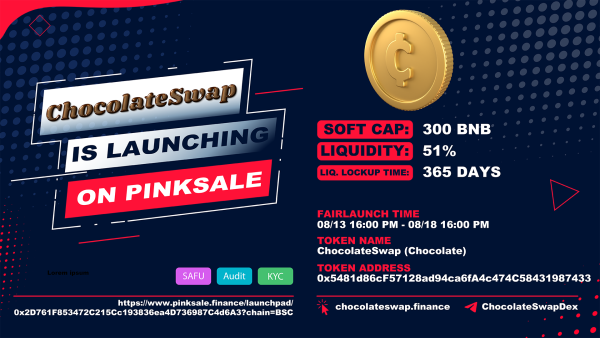 ChocolateSwap is a delicious cryptocurrency token which is set for pre-sale on the Pinksale starting August 13, 2022. Soft cap is set at 300 BNB with 51% of the total raised funds going to the liquidity. Besides, the lockup time of the liquidity is 365 days.
The ChocolateSwap token is the heart and power of the ChocolateSwap ecosystem, a totally decentralized and community-driven project. As per the audit done by ContractChecker, Chocolate Swap meets all the requirements listed on Pinksale Documentation for SAFU contracts. The Chocolate Swap token is also KYC verified by ContractChecker, a trusted developer of Pinksale launchpad.
ChocolateSwap runs on the BNB Smart Chain, a blockchain with much lower transaction costs than Ethereum or Bitcoin. ChocolateSwap gives its community BabyDogeCoin as a holding reward.
To take part in the pre-sale, no registration or account is required. Users can instantly swap tokens. It gives users the ability to trade directly from their wallet app. No account information is required. There is a 0% trading fee on every buy and sell, which means anyone can now trade on the ChocolateSwap platform at no additional fee.
Speaking about making the ChocolateSwap ecosystem seamless and convenient, the spokesperson for the company said, "We have eliminated the need to create accounts or register users, which means users can instantly start swapping coins without wasting any time on registration. Using their wallet app, any user can trade the coins directly. They don't have to share any details with us, as we believe that the money belongs to the user and they are the sole owner of it. "
For more details, visit :
https://www.pinksale.finance/launchpad/0x2D761F853472C215Cc193836ea4D736987C4d6A3?chain=BSC
Media Contact
Company Name: CHOCOLATESWAP
Contact Person: TERRY JUNIOR
Email: Send Email
City: New York City
State: New York
Country: United States
Website: chocolateswap.finance