Idea Concert commercializes 'TOONIVIE' service, a webtoon video maker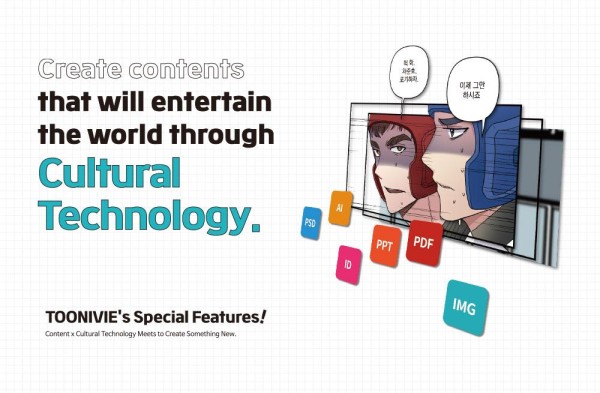 The 'TOONVIE,' which produces webtoons and cartoons as videos, is a service that allows anyone to upload an image to make it into a video easily.
Idea Concert, a Korean cultural technology content company, announced that it has launched a cloud service so that general users can easily use the existing technology that automatically separates webtoon images into characters and backgrounds and applies motion effects with one click.
IdeaConcert plans to upgrade a function that automatically separates cuts when published comics are uploaded and turns them into vertical scrolling webtoons suitable for smartphone screens in the future.
TOONIVIE allows individual corporate members who have applied for use to use the service after receiving approval, and creator members can also request use.
A company official said, "TOONIVIE is receiving positive responses from Korean users, and we are accelerating our entry into the US, Japan, Europe, and South American markets next year."
"It is expected to become a next-generation video content production service through joint projects and collaboration with overseas content companies."
Meanwhile, TOONIVIE has entered the main pitching stage of the Startup Track of Singapore Airlines AppChallenge 2022 and has drawn attention as a next-generation technology that enables better use of entertainment programs on board.
For related inquiries, please contact MAULANA RIZKI, Overseas Marketing at [email protected], who is in charge of the company concerned.
Media Contact
Company Name: Ideaconcert Co., LTD.
Contact Person: Maulana Rizki
Email: Send Email
City: Seoul
Country: South Korea
Website: ideaconcert.com